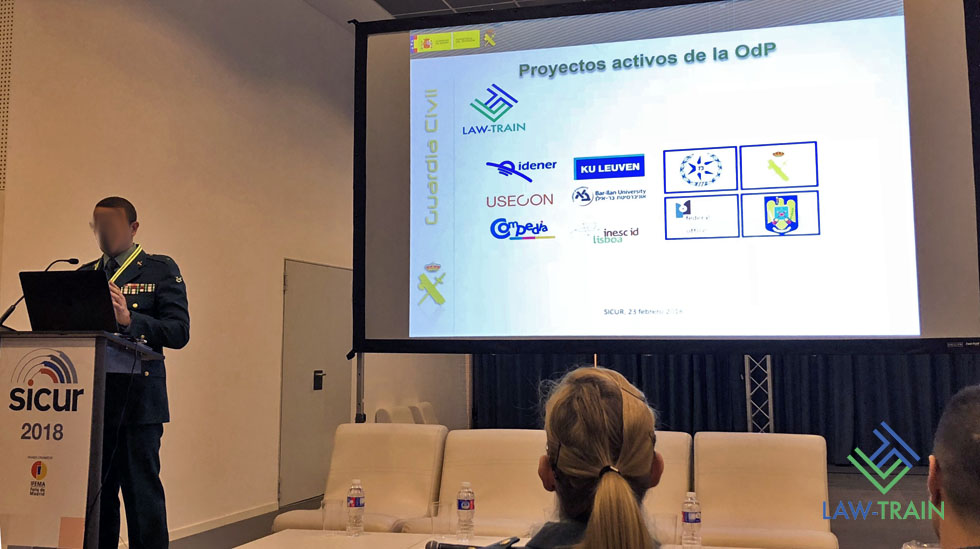 LAW-TRAIN at various Security Events
From 20th to 23rd of February, SICUR, the International Security Safety & Fire Exhibition took place at Feria de Madrid.
Organised by IFEMA, SICUR is a biennial event which attracts professionals from the world of security (engineers, architects, installation experts, insurance agents, official bodies, armed forces, police department, fire department, construction companies, banks etc.). SICUR 2018 closed its doors with a record of results, with 645 exhibiting companies and the visit of 43,732 professionals from 81 countries. In Spain, SICUR in Madrid is the most important event within this industry sector.
LAW-TRAIN was presented in front of an interested audience of more than 100 security professionals.
Find out more about SICUR 2018.  See pictures of the event.
From 12th to 13rd of March, Horizon 2020 Secure Societies European Info Day and Brokerage Event took place in Brussels.
The event is organized by the Network of Secure Societies National Contact Points – SEREN3, in collaboration with the European Commission. This information day and brokerage event gives details on the calls for proposals H2020-CIP 2018, H2020-SEC 2018 and H2020-DS-2018, published on 27 October 2017 under the societal challenge Secure Societies – Protecting freedom and security of Europe and its citizens.
These calls offer new research funding opportunities to research institutions, universities, industries, SMEs, civil society organizations and other security stakeholders.
LAW-TRAIN was discussed with several interested stakeholders during the event by consortium members.
Please visit the event website for detailed information.